Vein Removal Surgery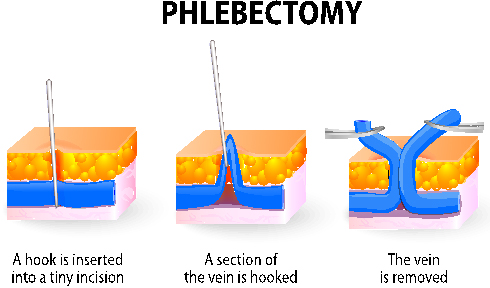 Is open surgery still performed?
Open surgery has been the traditional method used for treating varicose veins. It is performed under a general anaesthetic and involves an incision in the groin to disconnect the incompetent superficial vein from the deep vein. The superficial vein is then stripped to the knee level by introducing a fine plastic or metal wire through the inside of the vein and "stripping" it inside out through a small incision at the knee level. In-addition you will also require multiple small incisions in the leg to remove the varicose veins in the leg. This is referred to as multiple stab avulsions or phlebectomy as shown in the figure.
The modern endovenous techniques such as radiofrequency ablation and laser therapy achieve the same results as open surgery but avoid the incision in the groin and allow for early return to normal mobility. Open surgery however still has a place in varicose vein treatment especially when the veins are very tortuous for the laser catheter to pass through or when there is clot inside the vein.